Swimming pool 25*7, Beqa lagoon resort, about. Fiji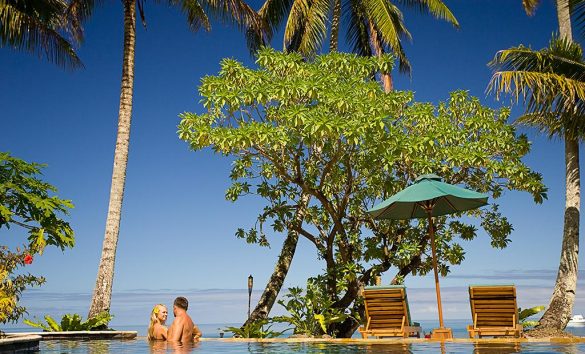 A TASK
Stage 1: reconstruction of the water treatment system in the pool, as well as in 13 spas. Installation of equipment. Solving the problem with the supply of disinfectants for the pool to the hotel. (The hotel is located on a separate small island, and the supply of all consumables, including chemicals for the pool, is difficult). The object is located 19.000 km from Ukraine. It was also necessary to bring all the material and equipment from Ukraine, because. practically nothing is sold on the islands (there is evidence of a total shortage in the photo ...) Water is supplied to the pool for filling and addition along the slope of the volcano, and until it reaches the hotel, it is filled with clay, and the water in the pool is cloudy, and this turbidity does not settle by itself.
Stage 2: design project, reconstruction of the internal cover of the pool bowl, as well as 13 spas in the bungalow (Bore).
SOLUTION
Completed work on stage 1. All filters were replaced, AFM "Broken glass" filters were loaded with a purification rate of up to 5 microns, pumps, automatic control and monitoring of water quality were replaced. An electrolysis plant has been installed, which produces Na hypochlorite - used to disinfect water in the pool, 13 spas (Bora), as well as in the preparation of water for the entire hotel.
On the second stage - the design project of finishing the pool, 13 spas was completed.
To get the consultation